*This post may contain affiliate links, which means I may receive a small commission, at no extra cost to you, if you make a purchase through a link!*
This small guest bathroom makeover is a project I've been dying to do. The small guest bathroom in our house is the traditional layout you see in many older homes with the tub, the toilet and the vanity crammed in side by side. We can't do much about the actual size of the bathroom unfortunately, but we can do something about the aesthetics of the space to make it feel bigger and brighter.
The previous homeowners cut a lot of corners and slapped things together to get the house sell ready and as we've lived here we have discovered a lot of sloppy mistakes or careless decisions. It's annoying but it also gives us the motivation to transform each space in the home into our own. The small guest bathroom had leftover linoleum flooring from the kitchen that was not installed correctly and had big gaps near the tub. We have been worried that there was going to be water damage when we pulled the floor up but knew it needed to be done.
On top of the small guest bathroom already being ugly, we certainly didn't do it any favors when we moved in and it has gone untouched. Meet our ugly small guest bathroom:
Before
I started scouring the internet (aka Pinterest) for small bathrooms for inspiration. Shout out to the other bloggers for sharing your talent. (And your links!)
When we ripped the mirror, vanity and floors out we were left with some pretty beat up drywall and we didn't really want to deal with installing new drywall so I started looking for shiplap inspiration. The big decisions for shiplap were whether to go white or to make a bold statement, and also whether I wanted horizontal or vertical. Here are a couple blogs I was inspired by for shiplap:
Our small guest bathroom / kids bathroom inspiration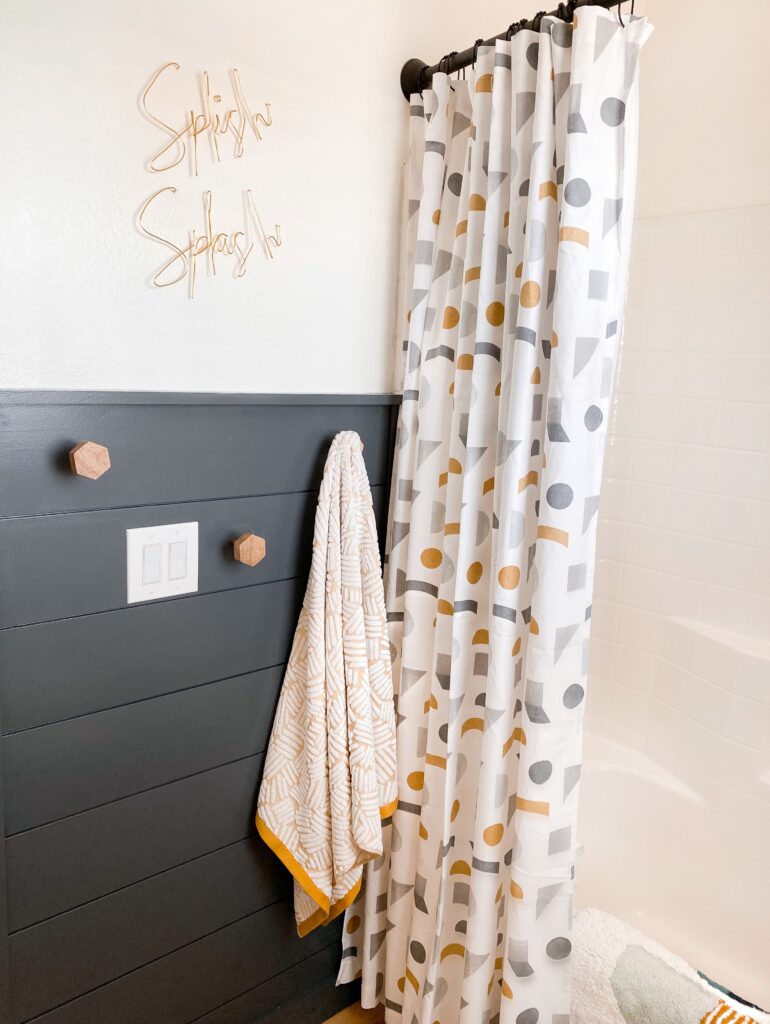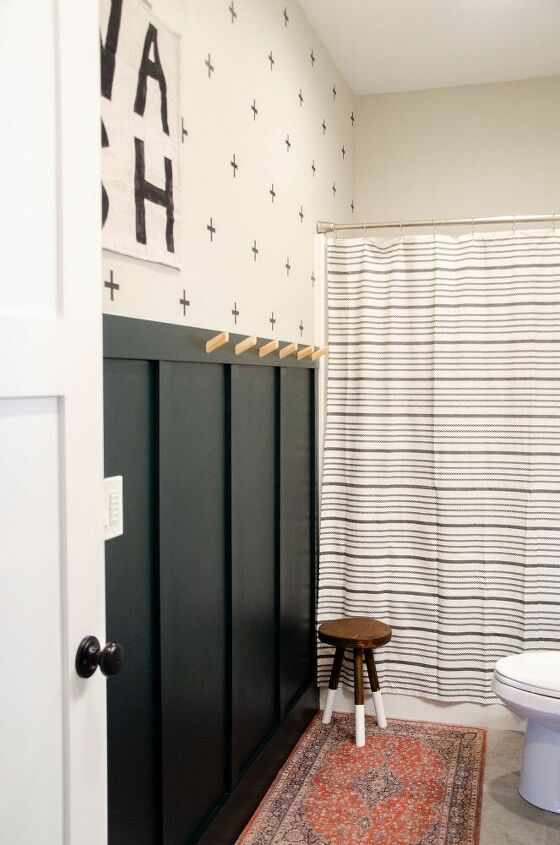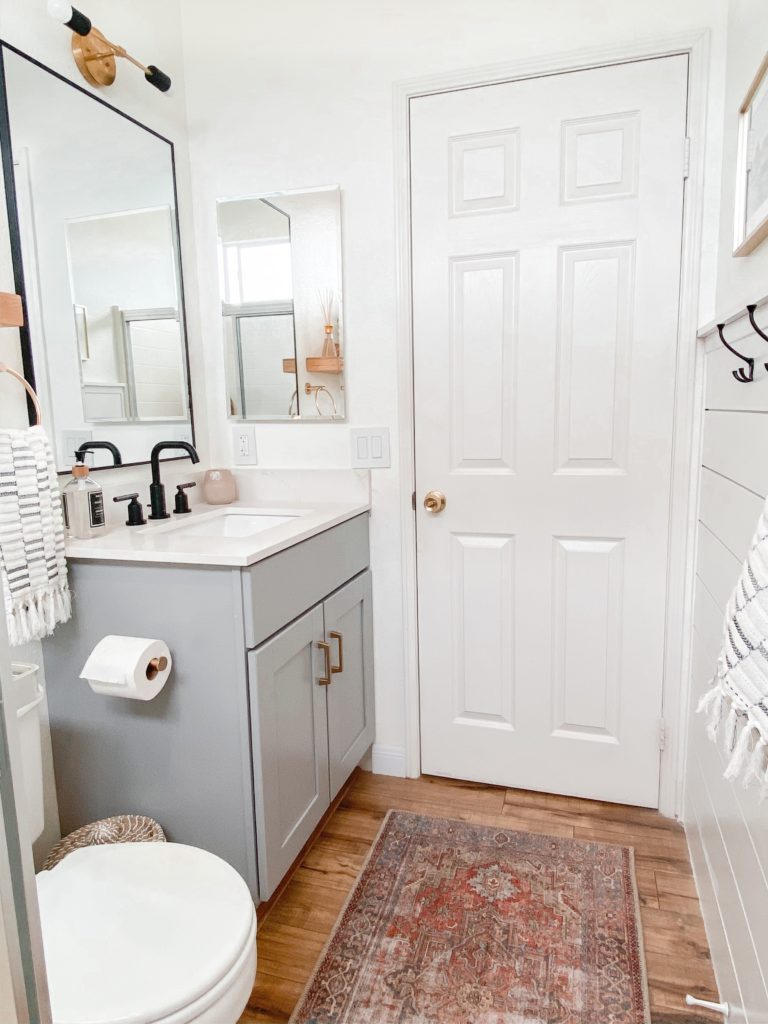 I was really loving the mix of black hardware and soft golds in some of the bathrooms I was seeing. It feels a bit playful and bold to me. Because this is a shared bathroom for guests and our son, I really wanted that balance so it was welcoming for all ages.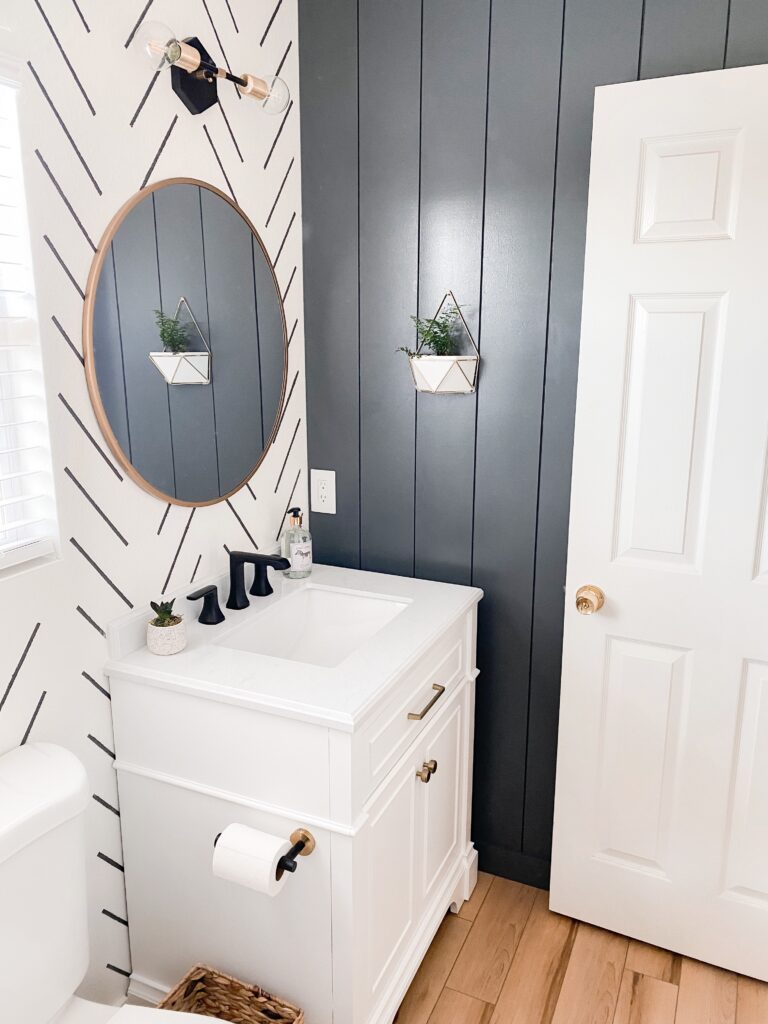 other inspiration images I loved can be found here
Shop the collage

I can't wait to share the final reveal of our shared small guest bathroom and kids bathroom! I'd love to hear all your tips and tricks – we are always learning around here!